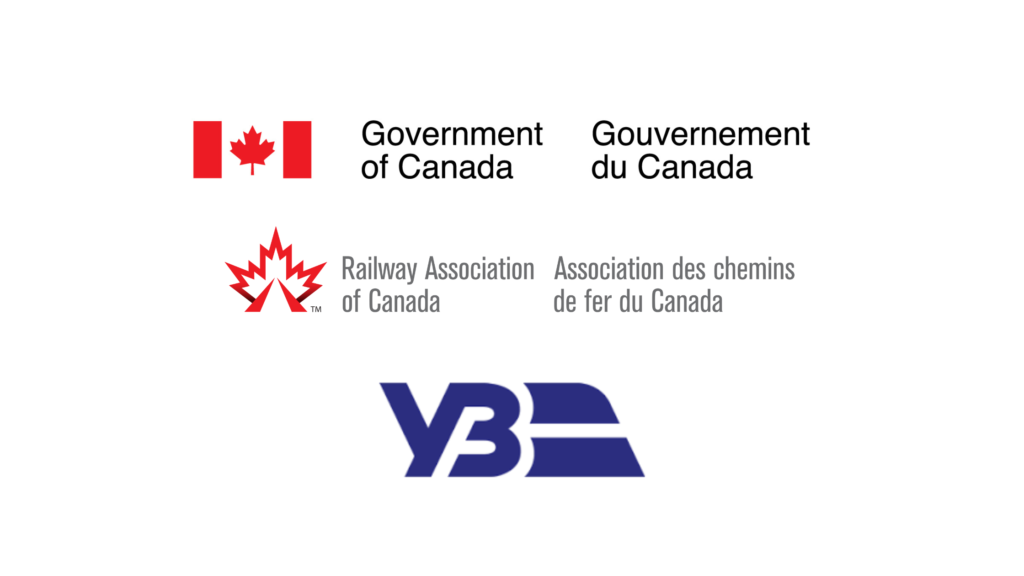 Russia's illegal invasion of Ukraine has caused mass casualties, widespread hardship, and significant damage to Ukraine's critical infrastructure — including its railways.
KEY FACTS
85% of all goods in Ukraine are transported by rail
27,000 Ukraine's rail network in kilometers
000s Kilometres of network damaged as a result of the current war
70 Rail bridges destroyed in the last year
20 Rail bridges already rebuilt
20 Rail stations damaged or destroyed in the last year
Ukraine's vast railway network is more than an economic driver — it's essential to its national security and to its citizens' wellbeing. When the Russian invasion began, rail workers helped evacuate millions to safety. Trains continue to move vital goods and people out of the country, while moving contributions to the war effort to where they're needed.
As in Canada, rail is an essential part of Ukrainian life. But over the past year, Russia's aerial bombardments and ground incursions have inflicted serious damage to critical infrastructure. Canadian railways are ready to assist in keeping trains running and rebuilding for the future.
What challenges are Ukrainian railways facing right now?
Infrastructure damage: The conflict has significantly damaged the nation's railway infrastructure, including bridges, railway tracks, and signal systems. This has disrupted some rail services and reduced the mobility of Ukrainians and vital supplies in the war effort.
Limited access: Some areas in the conflict zone are not accessible due to security concerns, which has limited the ability of railway operators to repair and maintain the infrastructure in those areas.
Disruptions to trade: The conflict has disrupted trade between Ukraine and its partners across Europe and around the world, impacting Ukraine's economy and the wellbeing and safety of Ukrainians.
Inaccessible supplies: Ukrainian rail operators are having difficulty accessing essential rail equipment and supplies to keep their lines open and equipment running.
Security concerns: The ongoing conflict has caused increased security concerns for rail operators, including the risk of theft and vandalism.
Outdated equipment: Most of Ukraine's locomotives have not been replaced since the 1970s. Prior to the invasion, modernization of Ukraine's rail network was well underway. But the conflict has since prevented European companies from contributing support and reduced Ukraine's capacity to build maintenance parts within its borders.
Personnel affected: Railway workers themselves have been deeply impacted by the conflict. More than 750 have been injured, more than 330 have been killed, and more than 150 have been rendered homeless. UZ has launched the Iron Family initiative in response.
How are Canadian railways helping?
RAC members and associate members are ready to help where needed. Working with Transport Canada and Ukrainian counterparts, we're gearing up to provide materials and expertise to Ukraine.
We'll be working together to support:
Immediate needs and long-term rebuilding. We're helping respond to critical needs now, while also looking ahead to the future. Many of Ukraine's infrastructure challenges will carry on after its victory. Canadian railways will help Ukraine build back better.
The expansion of intermodal capacity. Ukraine's supply chain doesn't and can't depend solely on rail; it requires collaboration between other modes of transport, such as trucks and seafaring vessels. Canadians can assist.
Modernization of Ukraine's rail network. Ukraine's railways will need help updating its network, so it can catch up with Europe's modern standards for rail.
Learn more about how the Government of Canada and the Canadian Railway Industry is working to help Ukraine
Two countries built & bound together by rail
The special relationship between Canada and Ukraine dates back to the 1890s. A first wave of Ukrainian immigrant farmers helped settle the Canadian Prairies. Many were transported to new lives on newly constructed rail lines. Between 1890 and 1914, a total of 170,000 Ukrainians immigrated to Canada. The Ukrainian diaspora is today the second largest in the country. And people of Ukrainian heritage continue to make vital contributions to all facets of Canadian society.
For more on their ancestors' journey to Canada, please consult these resources: